There's no way around a sub-par bathroom. It's uncomfortable, it's unappealing, and it's more than a little stressful to deal with. Everyone has dealt with an uncompromising bathroom in their lives, but your turn doesn't have to be as excruciating as the horror stories would have you believe!
Whether your bathroom is too dark or too small, there are simple, creative workarounds for almost any problem you're experiencing. Here, we've compiled a few tips and tricks to make your space a little more livable, a little more … you!
Change Up Your Decor
It may not seem like it right now, but giving your bathroom a fresh feel isn't so hard to do! Often, a hardy, low-light plant or two is all you need to give the space a breath of cleansing air. Try adding a favorite art piece or switching out your shower curtain for something seasonal and fun!
Another less-expensive option is to add smaller, more intimate pieces to the room. A sweetly scented candle or a favorite playlist can soothe and calm; try it with a relaxing bubble bath!
Need More Space? Put Up Some Shelving!
While some say that there's no remedy for a tiny bathroom, we know the truth! If a little more storage space is what you need, don't forget to look up! The most underutilized space in any room is vertical; hang some floating shelves above the toilet, or suspend a few baskets on the back of the door, and you'll be amazed at how roomy the space feels!
If you're really pressed for square footage, you can always hang some wire shelving in the shower! The walls across from and sharing the shower head are your best bet; conserve your shower space, while using up shower space you don't need!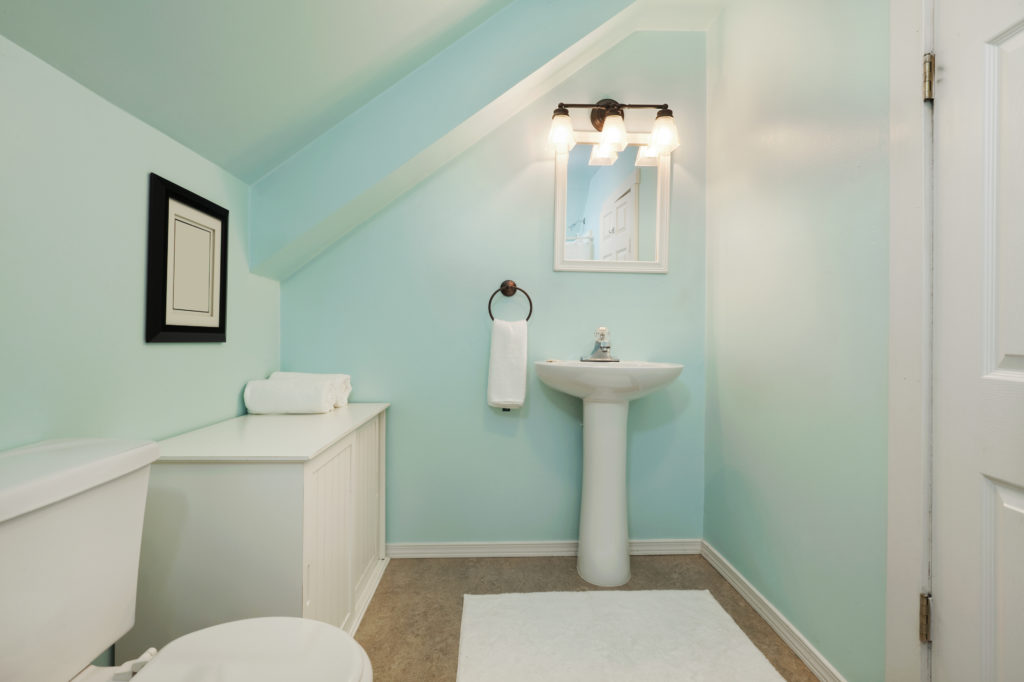 A Fresh Coat of Paint Works Wonders
A windowless, dark gray or beige bathroom is about as depressing as it gets, but luckily, it's also an easy fix. If shelving and plants just aren't getting the job done, don't stress! Head to the hardware store and pick up a can of paint in a light, bright color. Think white, mint, pastel yellow or pink; the choice is up to you. Make the space your own!
Choosing a light color for the walls of a small, dimly lit room will reflect any light sources you do have, giving the illusion of more space.
Even a tiny, matchbox-sized bathroom can benefit from this simple change.
When in Doubt, Refinish!
You've tried it all — plants, pictures, paint — but nothing works! The bathroom just won't conform to your ideas, and you're at your wit's end with trying to DIY the situation into a more positive light. This is where we come in; let us help you refinish that dingy bathroom into your dream space!
You don't have to spend thousands of dollars to replace the stained tile, the stained bathtub or the worn-out counters. Here at Ideal Refinishing, we'll help you achieve the bathroom of your dreams at a cost that's both budget-friendly and guaranteed to make you smile.
The bathroom you have might not be the bathroom you want, but that doesn't mean you're stuck with it. Try these handy tips and tricks to DIY some of your personal style, and if your space needs a little extra love and care, give us a call!